>
A community of people using cannabis to effectively control pain & treat illness.
We are patients using medical cannabis as medicine. We study, learn and share our personal stories and experiences showing how it is improving our health. Tracking strains, products, consumption, medications reduced or eliminated. Joining together, we create a safe, respectful non-judgemental community to support one another as we work to advance cannabis as medicine. Consequently, we have been waiting on the medical advancements that will improve, control, heal or cure serious medical conditions. Medical Marijuana is answering our call as it improves our health and life. It is time to make our voices and health matter by studying Cannabis and CBD with our facts.
It is free to all cannabis patients and anyone just starting.
How you can advance your health and cannabis by joining us:
Personal Journaling that connects you with other members with the same condition.
Learn how others are improving similar conditions.
Green Room forum for safe open cannabis discussion
A Pharmacist reviews all medications and advises
One-on-One support while reducing opioids
Pain in the Grass forum for reliable, safe discussion on chronic pain, cannabis and opioids
Share your personal story open or anonymous by video, podcast or written letter.
Working to ensure dispensary, grows and the medical community are meeting our needs
If you are healthy and want to help us advance cannabis, become a Community Member.
It is an exciting but critical period for health with Cannabis and CBD as medicine. For that reason, we are looking to bring in individuals and companies that are as passionate as we are. To collaborate with to ensure we understand how cannabis is medicine. First of all, we are up against a powerful pharmaceutical. Not only but also a Medical industry that we believe we can beat when everyone gets involved. Likewise, we know we cannot beat them with money, but we can beat them with facts. Cannabis has to be about improving our communities, health, and life. With attention to opening doors to medical breakthroughs that are just waiting on us. Each of us struggles with health and medical conditions that threaten our lives. Cannabis has given us a life we could never have imagined before medical marijuana.
We welcome good ideas, solutions and anyone ready to roll up their sleeves to join in this battle. To improve health now and for generations to come. Signup
Info Nugget Corner
<== Watch our current video to learn why our missing voices are necessary to improve our health and assist others!
Upcoming Events:
High Times Cannabis Cup in Oklahoma City, OK August 24 and 25, 2019.  We are very honored & excited the Veterans Walk, and Talk has invited us to join them at upcoming High Times Cannabis Cup. We look forward to meeting you in the Smoke Pit. You are important. We will be available to answer questions and assist you.
Now Appearing on The Green Screen
Our feature story improving health, pain, and life
Education Topic
Learn how a few other medical conditions achieve better pain management with the addition of cannabis. A free GF account is required to watch their videos.
https://www.green-flower.com/episodes/536/fibromyalgia-and-cannabis
https://www.green-flower.com/episodes/16/back-pain-chronic-pain-nerve-pain-cannabis
Do you have Educational Material that provides a better understanding of cannabis as medicine? We would love to share it here.
DebiW Phoenix Arizona, 62
Chronic Regional Pain Syndrome (CRPS) and Opioid Dependence.
Watch the video below to hear how she is beating what is called the suicide disease and reducing opioids at the same time.

Item Of Interest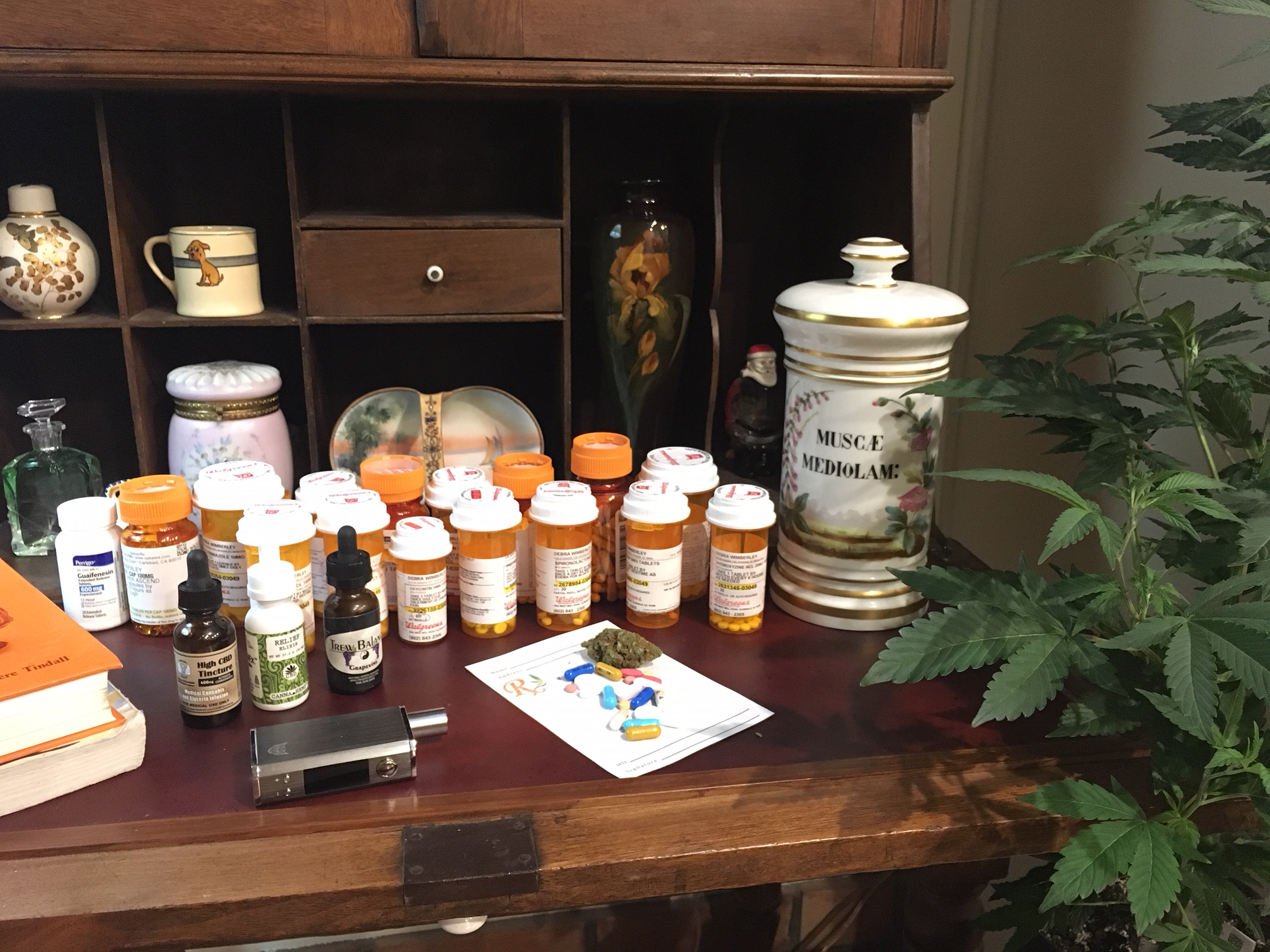 Dr Ethan Russoarn explains – Could endocannabinoid deficiency explain migraines, fibromyalgia and irritable bowel syndrome?
https://news.lift.co/endocannabinoid-deficiency-explain-migraines-fibromyalgia-irritable-bowel-syndrome/?utm_content=buffera9463&utm_medium=social&utm_source=twitter.com&utm_campaign=buffer/

Check out our new series
On The Inside Chronic Pain, Opioids and MMJ-Segment 1
Have you asked your physician how they treat chronic pain patients? A conversation we should all be having and understand. Help us start the conversations.
Patients using medical cannabis as medicine
Medical Conditions in our Study
Anxiety = 3
Cachexia (Wasting Syndrome) = 1
Crohn's Disease = 1
CRPS/RSD – Chronic Reginal Pain Syndrome/Reflex Sympathetic Dystrophy = 2
Fibromyalgia = 2
Insomnia = 7
MS – Multiple Sclerosis = 2
Migraines = 2
Opioid Dependence = 2
Pain = 8
PTSD – Post-traumatic stress disorder = 2
TBI – Traumatic Brain Injury = 1
View the full list of Medical Conditions in Our Study here
Stay up-to-date on the latest legislative news to understand what is happening with cannabis in your state and around the country.